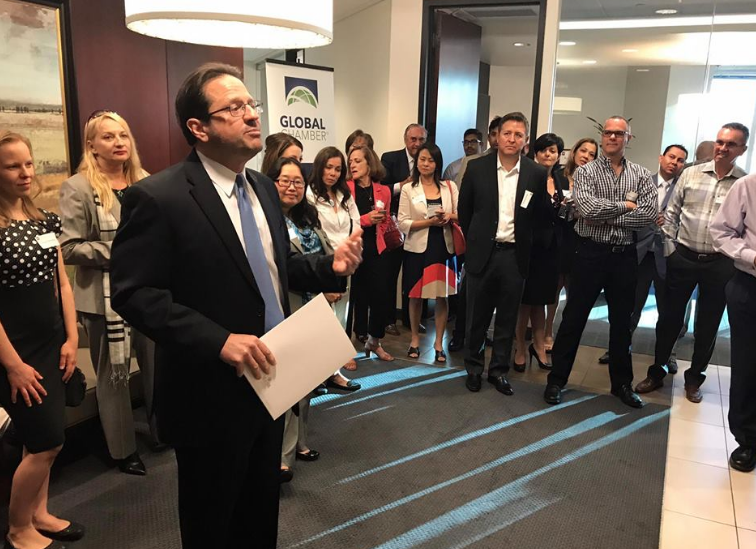 Global Chamber® collaborated with our regional partners across the metro to gather new global companies who have landed in the Valley and host them for a much deserved 'welcome'. Welcome to the Valley!
Thank you to many in the Consular Corps of AZ for participating in this special event including the Honorable Chairman Alfred Molina (Spain), Hank Marshall (UK), Rose Novaes (Brazil), Reggie Winssinger (Belgium) and Wolfgang Klien (Austria).
This event was hosted by Tiffany & Bosco at their office at 2525 E Camelback. See pictures on the Global Chamber Phoenix facebook HERE and all the pics HERE.
We had executives from companies from the following countries... Austria, Belgium, Brazil, Bulgaria, Cameroon, Canada, China, Democratic Republic of the Congo, Finland, Germany, Ghana, India, Japan, Malaysia, Mexico, Netherlands, Peru, Philippines, Poland, Romania, Russia, Serbia, Spain, Turkey and the UK.
Any time Alfredo Molina speaks there are educational take-aways! Besides learning how to make the woman in your life happy through tips embedded in the acronym C.U.R.E., we heard about the power of YES. YES is liberating, powerful and opportunity-generating. Never say 'no' - and things change for the better! Thank you Alfredo! And stop by Molina Fine Jewelers at 32nd and Camelback anytime for more jewels of wisdom.
This was an inaugural event for this type of welcoming, and at our advisory board meeting next Tuesday we'll be more fully forming the committee that will work with these companies that have landed in the metro.. If you'd like to be part of that activity, please let me (Doug) know.
And i'm confident after the success of this one that there will be a 'second annual' version!