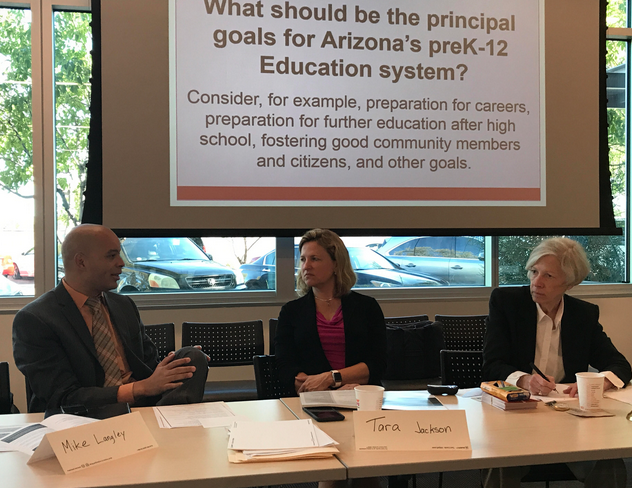 We were pleased to once again this year collaborate with Arizona Town Hall on an important discussion for the future of the state. Thank you to SRP for supporting the discussion with a sponsorship - greatly appreciated!
Last year we covered the topic of international trade.
This year their topic was funding preK-12 education. It was again a lively discussion!
Pictured is Mike Langley, Deputy Director of Global Chamber Phoenix, interacting with the organizers including Tara Jackson.
You can see the report created from our discussion HERE along with the upcoming schedule if you'd like to have your voice heard on this topic and you were not able to attend.
Read the report at the link above - what do you think?
It was shocking to hear just how far Arizona is behind other states. A systemic underfunding of the education system does not bode well for the future of the region. Hopefully the voices of the community are heard through this process and action taken to start resolving the serious issues with the Arizona education system.
Arizona Town Hall educates, engages, connects and empowers people to resolve important issues through consensus, not division, using a process based on respectful dialogue that values diverse perspectives, builds relationships and fosters leadership development. Their annual event this year is in November.
Read more HERE.