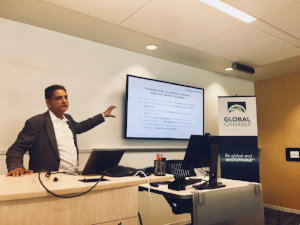 Innovation is accelerating in the United States at a faster rate than talent can be developed, creating the need for companies to seek out foreign talent and alternative, up-to-date solutions. Offshoring to lowest cost countries like India has been a traditional solution. There is another solution for agile firms in the Americas, and Anurag Kumar, CEO of iTexico, shared more on 'nearshoring.' in a lunch and learn session at Global Chamber Phoenix last week.
Nearshoring is the outsourcing of a business process to a nearby country, as opposed to offshoring which outsources to countries far away. In nearshoring, both parties benefit from geographical proximity and cultural, social, and political affinities. The practice of nearshoring is becoming increasingly common in the high-tech industry.
In the case of iTexico, the firm has built an outsourcing of IT services engine with Mexico, with their own headquarters in Austin, Texas. Through their nearshoring PLUS model, iTexico extends benefits to their clients including IT teams with similar cultural norms within the same time zone, and with closer proximity to facilitate communication. The nearshoring model developed by iTexico has benefited from ever-increasing numbers of talented IT students across Mexico who help provide state-of-the-art support for companies all across the U.S..
Anurag predicts that the present trends in outsourcing and economic development in some metropolitan areas in Mexico closely mirrors that of India's 'IT boom' over a decade ago. Mexico is on its way to becoming a major center for high tech innovation as more companies tap in to the nearshoring and nearshoring plus models.
For oue members looking to innovate, why worry about building IT teams to ramp up and down with each new initiative, when a company like iTexico is doing this work every day, with resources are state-of-the-art and less expensive than local IT talent? It's an alternative to help accelerate the growth of your own firm across metros and borders.
About Anurag Kumar and iTexico
Anurag Kumar is an entrepreneurial global business growth executive with experience in Mexico based Nearshore IT, digital transformation solutions, professional/consulting services, offshore outsourcing and mobile solutions. He has proven leadership skills and experience in launching, leading and managing global teams and held executive positions with Dell, IBM Global Services, KPMG, Unisys, TCS and start-ups in the US, Mexico, UK, and India.
iTexico is a global software technology company that focuses on helping businesses with mobile development throughout a project's lifecycle under a nearshore model. The company was founded by seasoned entrepreneurs in 2010 and has its headquarters in Austin, Texas, a regional office in Silicon Valley, and a wholly owned software development and delivery center in Guadalajara, and Aguascalientes, Mexico. Since 2011, iTexico has experienced 500% growth and maintains strong business partnerships with many large-scale tech companies, including Kofax, IBM, Xamarin, and Microsoft. The company is a multiple year Inc 5000 growth award winner.
Read more about iTexico https://itexico.com.
Contact Anurag and the team at iTexico through the Global Chamber Directory or by sending an e-mail HERE.