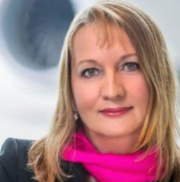 Congratulations to Dr. Joanna Moore, nominated by the Aerospace & Defense Executive Board as chairperson. The Chair for the past two years has been another member of Global Chamber - Moses Koyabe, who is a Global Advisor for Global Chamber in Africa.
Joanna has impressive accomplishments in the Aerospace industry. She is a global strategy and business development leader with industry experience in Asia/China and Europe - including her home country Poland. Joanna is President of The Americas Aerospace Cluster (AAC), a non-profit organization with the goal of bringing together the aerospace industry in the USA and connecting with the global network of aerospace clusters facilitating related investment, job creation, collaboration and R&D.
The mission of the AAC Cluster to connect the aerospace industry with local and national governments, international governmental and non-governmental organizations, research centers and non-profit organizations to grow aerospace in different regions and sectors. Some of you attended or learned about the successful event that the AAC Cluster held earlier this year at Sanctuary Resort on Paradise Valley.
Joanna has worked at Boeing as manager of Boeing Defense & Commercial, Systems & Materials & Structures engineering, She is a Global Advisor for Global Chamber in Poland.
Congratulations to Moses Koyabe for his successful two year tenure, and for helping to find such a worthy successor!
Learn more about the Aerospace & Defense Forum by clicking HERE.
Learn more about the Americas Aerospace Cluster by clicking HERE.