Global Chamber Phoenix partnered with member Radix Law to create a discussion about how election results will impact your business, locally and globally.
Jon Frutkin, Principal Attorney at Radix Law moderated a conversation with Arizona Republic political reporter Dustin Gardiner and GlobalMed founder and CEO Joel E. Barthelemy. What a fun and informative evening! There were plenty of facts and a few opinions, too. The event was held at Tanzy Restaurant at Quarter One in Scottsdale.
Speakers
Joel E. Barthelemy - Founder & CEO/CEO at GlobalMed (below, left)
Dustin Gardiner - State Political Reporter at AZCentral & Arizona Republic (below, right)
Moderator: Jon Frutkin - Principal at Radix Law (2nd picture, left)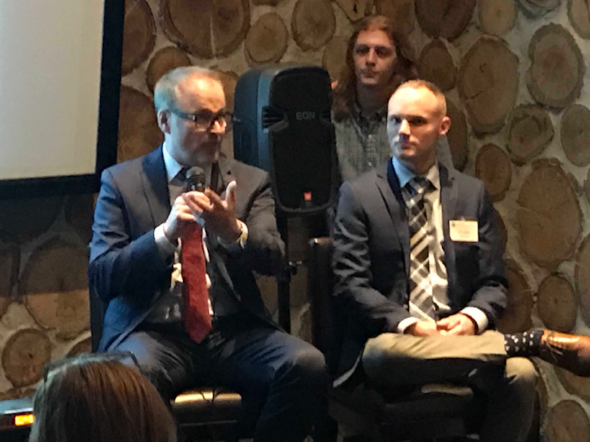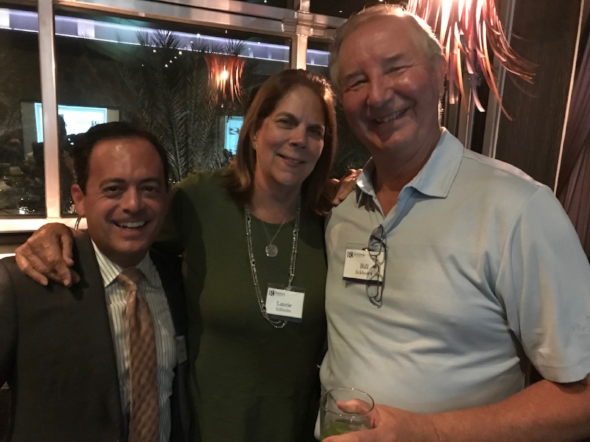 Biographies
Joel E. Barthelemy, Founder and CEO/COO of Scottsdale-based GlobalMed has a vision of quality, timely care for all through connected health. Barthelemy has spent the last 16 of his 30+ years in the technology industry focused on the development of connected health systems. Under Barthelemy's leadership, GlobalMed uniquely stands as the only telemedicine provider to complete all parts of the process in-house, from inception to distribution. He actively inspires the design and implementation of these effective and high-functioning telemedicine engines (both software and hardware), consistently simplifying the care delivery process within government, clinical, and commercial settings. Barthelemy has been recognized as an outstanding innovator, community advocate, and a high-growth technology company leader. Active in his community and industry, he currently sits on the board of Sun Health Services, the Arizona Bio Industry, and the ASU Health Futures Council, is an Ambassador to the Veterans' Medical Leadership Council, and is a board advisor for SEE4Vets. In the past, Barthelemy has served as a board member at the American Telemedicine Association (ATA), where he chaired the ATA's Industry Council, and was a board member of the Visual Communications Industry Group. Barthelemy and GlobalMed annually give back to the community through generous commitments to programs such as Toys for Tots, the Jennifer Lopez Family Foundation, Blanket the City, the Wounded Warrior Project, the Diaper Bank of Central Arizona, the American Heart Association, the United Blood Services Blood Drive, Phoenix Theatre, Celebrity Fight Night/Mohamed Ali Parkinson's Foundation, the Andrea Bocelli Foundation, and Teen Lifeline. He attended both St. Cloud State University and the Thunderbird School of International Management and received an honorable discharge as a non-commissioned officer from the United States Marine Corp Reserves.
Dustin Gardiner covers state politics for The Arizona Republic and azcentral.com with a focus on the Arizona Legislature, state agencies and the statewide elections system. He has wanted to be a political reporter since 10th grade, when he started writing his high school newspaper, The Brighton BARB, in suburban Salt Lake City. He quickly realized that he loved telling people's stories and uncovering mysteries. After graduating from the University of Utah (go Utes!) in 2009, he moved to Arizona to work as a reporter. Prior to switching to the statehouse beat, Dustin covered Phoenix City Hall for more than five years. His articles exposed conflict of interest concerns related to a downtown land sale and lobbyists who flouted the city's transparency rules. In 2017, he received the "Story of the Year" award from the Arizona Newspapers Association for his coverage of the city's land ownership practices. When he is not reporting, you'll find him outdoors, running trails and exploring the landscape of the Southwest.
As the founder and principal of Radix Law, Jonathan Frutkin has significant experience as an attorney, a business executive, and business owner. Over the course of his career, he has owned a website design business, a software company, a real estate development company, and served as the developer for a national ice cream chain. Jon's legal practice focuses on providing general counsel, including legal advice on capital formation, mergers and acquisitions, litigation strategy and intellectual property. His work includes handling both domestic and international transactions on behalf of his business clients, ensuring that these matters comply with all relevant federal, state and international laws. Jon brings his talent and expertise, including real-life experience in the business world, to the practice areas of Corporate and Business Law, Corporate Bankruptcy and Commercial Litigation. Jon is the author of the book Equity Crowdfunding: Transforming Customers into Loyal Owners. His expertise in crowdfunding has resulted in regular media appearances, including in publications such as The Economist, Kiplinger Personal Finance and the Washington Post. In the Phoenix area, he is a frequent commentator on legal issues on television, radio and print media.
Jon founded The Frutkin Law Firm in 2007, which is now Radix Law. He has worked diligently to put together the top legal talent available to serve the firm's business and individual clients, starting with Partner Carrie Tatkin in early 2009. Jon has grown the firm considerably since its founding 2007, with the ultimate goal of providing quality representation to clients of all sizes.