While we were learning about the historic decision taken by the people of the United Kingdom on its exit from the European Union ("Brexit") and the uncertain impact this will have on international trade, the state governments of Arizona (USA) and Sonora (Mexico) were announcing their new initiative: The Arizona-Sonora Megaregion.
This project aims to provide a competitive platform to companies from around the world to invest in this area and benefit from the resources shared by these two inter-country states. The combination of advantages that this region offers is very attractive and seems to be already working. Among these advantages are:
Skilled workforce + Competitive costs

Modern infrastructure + excellent geographic position

Low tax +Support from the government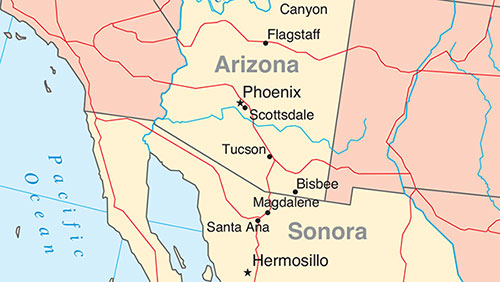 The Arizona-Sonora Megaregion focuses on attracting companies from four already well developed industries: Aerospace, automotive, mining and tourism. This project was presented during a business forum organized by the Arizona-Mexico Commission (AMC) last Friday, the 24th of June, in Scottsdale, Arizona. The forum had the participation of the governors from both states, the Hon. Claudia Pavlovich (Sonora) and the Hon. Doug Ducey (Arizona). Global Chamber had the opportunity to attend and hear the comments from both governors, along with the participation of the Secretary of Agriculture (SAGARPA) of Mexico, Hon. José Eduardo Calzada. There was a general consensus that this is the best way to promote the region in international exhibitions in order to excel in this competitive world.
This is a proposal that state governments are building together, taking advantage of the already free trade agreement between United States and Mexico. Arizona and Sonora are sending a powerful message to the world after what happened with Brexit. This type of proposal seems to display a more viable option to promote international trade, which is not dependent on the traditional bureaucracy presented by central governments and where entrepreneurs of the region have greater participation. This trade approach is meant to work for the good of the American and Mexican society while avoiding dealing with internal policies that could trigger social differences as is happening in Europe.
"We are talking about opportunities while others are talking about problems" stated Hon. Calzada when referring to the negativity brought by the Brexit situation.
You can learn more about the Arizona-Mexico Megaregion in this article by The Arizona Republic... Grow Trade with Mexico Now (or Regret It Later)
In the article, Mexico's Secretary of Foreign Affairs, Claudia Ruiz Massieu answers questions, June 24, 2016, in the Editorial Board room at The Arizona Republic.
Also see and hear more about Sonora-Arizona Megaregion in this video, here.
By: Cesar Trabanco, Global Chamber