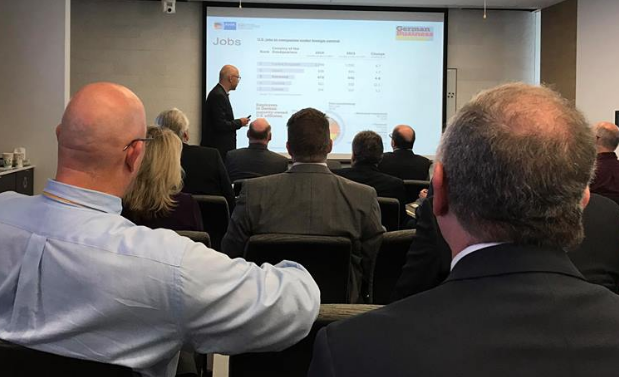 Rudy Vetter of Green Card Fund and the German American Chamber of Commerce presented the results of an annual survey of German American business leaders today at Polsinelli. Thank you Karen Dickinson, Gerrit Steenblik and Mike Patterson for hosting the event in Downtown Phoenix.
The news is mostly good! There are over 8000 jobs in Arizona attributed to German-owned companies. And across the US, 85% of the German-American companies expect to increase their workforce in 2017. Pretty good!!
Rudy went through the survey and also presented the new Honorary Consul of Germany for Arizona... Wolf Kaufmann. Wolf was on a panel that discussed the survey results and commented on the state of the German-American business in Arizona and in other parts of the U.S.
Global Chamber Phoenix was pleased to be a marketing partner for this important discussion. Thank you Rudy, Gerhard and the team at GACC for your collaboration.
One of the things that came up that we agree with wholeheartedly is that most of the German companies in the community are 'below the radar screen' - not known by nearly everyone. It's a common issue - companies from most countries are unknown by most people locally.
And so we're doing something about it... starting an annual 'Welcome to the Valley' event with executives from companies from all over the world. Pretty cool, huh? It's hosted on May 16th - intended to be for members only, but we can work something out for a few non-members... please contact me for more info.
Global Chamber is growing in 525 metros including in Germany... my home country... and we help executives with all the things required to grow globally ESPECIALLY finding customers across metros and borders. Join us - and we have events, too ;-)
All the best, Doug