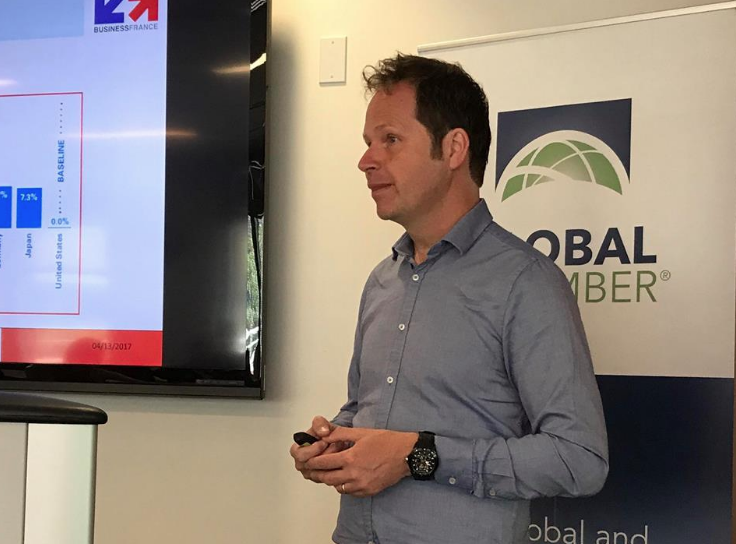 Today Erik Fackeldey of Business France (San Francisco) shared export, import, tourism and investment opportunities between the US and France.
Global Chamber® Phoenix (and all our chapters) hold a regular stream of these events so that members can connect directly to resources related to specific countries and regions, and to keep spreading the message that MOST of the opportunities are somewhere else. 85% of new business opportunities in the next 5 years are outside the U.S.
More on Business France: The organization contributes to the development and success of French and foreign businesses wishing to expand abroad by supporting them throughout the lifetime of their projects, and is driven by an efficient, result-oriented working culture.
Global Chamber® works with organizations like Business France around the world to connect our members to opportunities and fill in the gaps that happen when doing business across borders.
Today some of the information shared included...
- France is the world's 6 largest economy (by GDP)
- French is the world's 5 largest language and the fastest growing in the world. For example over 50% of Africans speak French and that percentage is expected to increase to over 80% in 2050.
- An average of 4 US companies land in the France per week with a weekly total of 6800 employees being added.
- France has the #1 startup scene in Europe, and this opens many doors including investment opportunities.
- France has the best R&D Tax Credit in Europe and the EU.
- Key regions of growth including Paris, Toulouse, Grenoble (a sister city of Phoenix) and Provence.
- Business France has 4 locations in the U.S. and Arizona is served from the office in San Francisco.
For more pictures of the meeting, click HERE.
For more information read our recent post on the main Global Chamber® website blog regarding opportunities in France and in particular Toulouse, click HERE.
For additional information contact us.