Our advisory board met this week... thank you all... in person, on zoom and in spirit.
This talented group consists of insightful business leaders advising Global Chamber® Phoenix to better help companies and communities increase international trade... exporting, importing, foreign tourism and foreign direct investment.
We meet 3 times per year, and after two meetings this year we're getting close to fully filling the committees with advisory board members and chapter members. If you're NOT part of the board and wish to be part of any of the committees listed below, please send an e-mail to Doug here.
Thank you Kevin Hull, Karla Moran, John Bevell and Don Becka for stepping into board leadership roles.
We're looking for additional advisory board members for the 'TBD' lead roles shown below in the agenda. Board members are NOT required to be on a committee. You are only required to be amazing from time to time, and donate what you can - time, talent and treasury.
In the meantime, here is a picture of some of the board with Olga Yakunina and Arzhana Matova, visiting Fellows from Moscow and Altai Republic, Russia, respectively (center, front - right and left). They presented extraordinarily outstanding analyses of the entrepreneurial and export eco-systems in metro Phoenix in contract with 4 other metros... San Francisco, Baltimore-DC, Denver and Dallas. If you're a member and wish to see either of those, please let me know!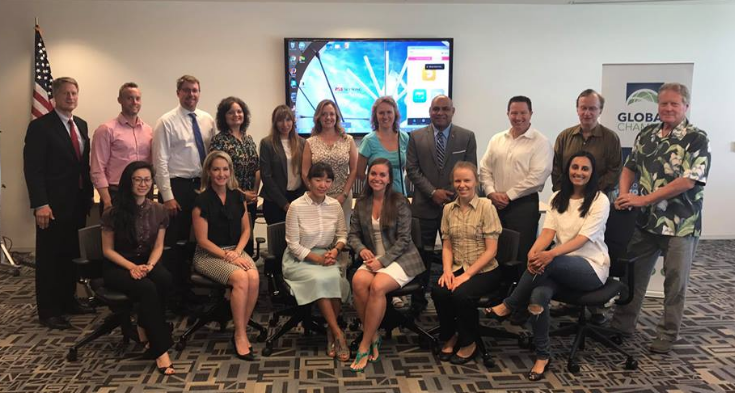 Agenda:
Welcome and Introduction

Short Update on Global Chamber

®

and Global Chamber

®

Phoenix

Initiatives 2017-18

Committees

/

Committee Reports

Education - John Bevell

+

Programs/Initiatives

- Kevin Hull +

Marketing

- Karla Moran +
Membership - TBD +

Young Global Leaders = TBD +

Global Business Council - Helping AZ Firms Connect Globally - TBD +

Arizona Business Council - Helping Foreign Firms in AZ - TBD +

Report on Phoenix Innovation Ecosystem by Olga Yakunina, Moscow Agency of Innovation

Report on Export Ecosystem by Arzhana Matova, Agency of Investment Projects, Republic of Altai

Upcoming Events and Opportunities

Next Steps
Watch for more on the committees in a separate post.
The next Advisory Board meeting for Global Chamber® Phoenix is September 26th, 3:15pm. These are for advisory board members and active committee members.
If that's a bad day/time for you, please let me know immediately..
Here's our extraordinary board... thank you ALL! Click here
Thank you!!
Doug Bruhnke
CEO/founder of Global :Chamber®
Executive Director of Global Chamber® Phoenix