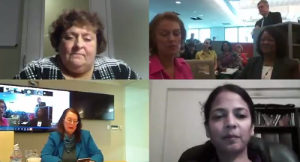 Global Chamber connects you to opportunities worldwide!
At several chapters we held another Women in Global Leadership event that included extraordinary woman leaders in Mumbai, Phoenix, San Francisco and Salt Lake City.
People attended in-person and virtually from everywhere in the world from the comfort of their laptop, tablet and smart phone.
Thank you speakers and attendees. That was fun!
We wrote an article HERE based on something that Lisa Cox in Salt Lake City said... "Don't be afraid of who you are". There are plenty of times when any of us don't 'fit' into the group as cleanly and clearly as the majority, but that doesn't mean that we need to lose our individuality. Know your circumstance and seek opportunities to embrace, celebrate and share who you are.
Never be afraid of who you are. Speak out. Push forward.
Changes we make across borders accelerates change in metros and countries worldwide.
"Never doubt that a small group of thoughtful, committed citizens can change the world; indeed, it's the only thing that ever has." - Margaret Mead
Read more HERE