2018 Grow Globally Fair Phoenix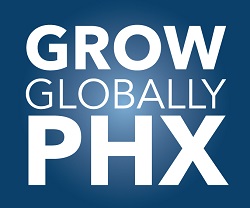 The Global Chamber® "Grow Globally Fair' is a unique, annual trade fair event for exporters, importers and investors doing international business. Join us October 12th, 3-5pm!
It's all the global resources in Metro Phoenix, all together, one time per year. Thank you to Polsinelli for again being our platinum sponsor this year!
Grow Globally Fair PHX is a trade fair with information, awards and everyone you need to know in our region to accomplish growth and more successful global business, The Fair is held at Skysong, 'Synergy' Rooms I/II. And YES - Tommy Bahama (Kierland) is back for the 3rd year with their gift basket, which will be raffled off at the end of the fair. Must be present to win!
Sign-up today to walk the global path through our trade show of international business. Global connections include a variety of opportunities for AZ exporters, importers and investors... and people who wish to connect to our globies.
Attendance is FREE for members/sponsors... the global tribe!!
For more information on joining the global tribe, click here.
Grow Globally Fair features...
PHX metro exporters, importers and the global tribe!

50 trade tables with resource and global organizations

Global business awards (see categories and winners)

Free to attend for members! Including Trade Tables
$25 to attend as non-member. Trade Table (Non-Members): $250. Note: Tables are free for members. They include 3 entry tickets. Set-up for tables 1:00 to 2:30pm.
Free parking for all.
Who should attend?
Exporters, importers and international investors

Executives looking to grow their business

Professionals looking for information on growing globally

Anyone open to cross-metro and cross-border opportunities and connections
Platinum Sponsors:

Gold Sponsors:

Agenda
(Table Setup 1:00 - 2:30pm - all tables set-up by 2:30pm, please)
3:00 Doors Open for Attendees
3:00 - 4:15 Expo/Fair... Walk the Floor! Meet the Global Tribe!
4:15 - 4:45 Annual Global Business Awards and Other Surprises
4:45 - 5:00 Expo/Fair Continued... Wrap-up and final walk the floor! And raffles!
5:00 End
(Table Breakdown 5:00 - 5:30pm)
2018 Global Awards
Exporter: Eyetech DS, Melinda Trego & Keith Jackson
Exporter with Social Impact: Zero Mass Water, Vinayak Gupta
Wealth Management: Pinnacle Financial Advisors, Lennard van der Feltz
Connector: Grant Doyle, Global Chamber® Calgary
Logistics Leader: Ricardo Alcubierre, UPS
Real Estate Leader: Anita Verma, Vermaland
Banking Leader: Vince Thelander, Bank of America
International Attorney: Hugh Hallman, Berry Riddell
Diplomat: Kelly Moeur, Honorary Consul General of Japan
Business City: City of Peoria, Mayor Cathy Carlat, Rick Buss
Government Leader: Suzanne Klapp, City of Scottsdale
Collaborator: ATHENA International - Valley of the Sun, Kristine Quade
Global Tribe Leaders of the Year: Barry Wong, State of Arizona, Jeanine Jerkovic, City of Surprise and Luis Ramirez, Ramirez Advisors
Trade Tables 2018
- AFEX
- Americas Aerospace Cluster and Aerospace & Defense Forum
- Arizona Business Bank
- Arizona Microcredit Initiative
- Arizona Small Business Development Centers (SBDC)
- ATHENA International Valley of the Sun
- ATI (Arizona Translators & Interpreters, Inc.)
- BMO Harris Bank
- Chamber Business News (AZ Chamber Foundation)
- Circculus Corporate Consulting
- Citizens' Climate Lobby
- Consular Corps of Arizona and 30th Annual Ambassador's Ball, Spring, 2019
- CPR Savers
- Cresa Partners
- Expeditors
- Gitenstein & Assadi PR (GAPR)
- Global Benefits Group (GBG) Insurance Without Borders℠
- Global Chamber® and 4th Anniversary Reception at Spencer Fane
- Global Chamber® Young Global Leaders and 10/25 Event at Hera Hub
- Global Chamber® Affiliate Table
- American Express
- Canton Fair
- Exim Bank of the United States
- IE Business School
- iTexico
- Lightstone Solutions
- Malaysia Investment Development Agency (MIDA)
- Safeguard Global
- U.S. Trade & Development Agency
- GlobalMed
- Global Protocol and 11/4-9 Professional Presence, Etiquette and Protocol
- Global Tax Network
- Global Ties Arizona
- iGlobal Business Consulting
- International Jazz Day Festival for AZ in Scottsdale April, 2019
- Japanese Friendship Garden plus Event on Asia Workforce 12/6
- Mangat Group
- MPEXA
- Necodex
- PhoenixNAP
- Phoenix Committee on Foreign Relations
- Polish American Chamber of Commerce
- Polsinelli
- ProMexico
- Radix Law plus Post-Election Business Discussion 11/8
- Ruspan Communications
- Safed House
- SBA (Small Business Administration)
- SEVRAR: SouthEast Valley Regional Association of REALTORS®
- Spencer Fane plus Reception 11/1
- Swedish American Chamber of Commerce (SACC)
- Swiftpage and Globinars 11/7 & 11/8 (Spanish) on Sales/Prospect Management
- Thunderbird School of Global Management
- Tommy Bahama (Kierland)
- UPS
- U.S. Commercial Service
- Vermaland
- Vertical Measures
Other Resources / Attendees
- Africa Business Portal
- Arizona District Export Council
- Arizona Israel Technology Alliance
- Arizona Lodging & Tourism Association
- Arizona Small Business Association (ASBA)
- Arizona Technology Council
- Aviation Relocation International
- BBVA Compass Bank
- BeachFleishman
- Business Enterprise Mapping
- Clear Growth Capital
- City of Peoria
- City of Phoenix
- City of Scottsdale
- City of Surprise
- Countries of Africa: Cameroon, Ghana, Kenya
- Countries of Americas: Brazil, Canada, Ecuador, Honduras, Mexico, Honduras
- Countries of Asia: Japan, Malaysia
- Countries of Europe: Austria, Belgium, Poland, Spain, Sweden, United Kingdom
- Creditsafe
- Dark Bean Software
- Frank Lloyd Wright Foundation
- General Southwest Insurance Agency
- German American Chamber of Commerce (GACC)
- Goldratt Group
- Greater Phoenix Economic Council
- Heiple Travers
- International Business Group
- International SOS
- InWhatLanguage
- Irish Network Arizona
- Japan External Trade Organization (JETRO)
- Korean Trade Organization (KOTRA)
- Kozolchyk National Law Center
- KJZZ 91.5 FM
- Lee & Associates Arizona
- Malaysian Investment Development Agency
- Mercantile Logistics & International Trade
- Miller Proctor Law
- MPEXA (Metro Phoenix Export Alliance)
- MungerChadwick
- Native Women Entrepreneurs of Arizona
- Phoenix InBusiness Magazine
- Phoenix Sister Cities
- Proctor Law
- Project C.U.R.E
- R & A CPA's
- Ramirez Advisors
- Sister Cities International
- Sonora Software / Pinnacle Aerospace
- The Board Institute
- University of Phoenix
- U.S. Global Leadership Coalition
- Weiss & Moy
- Zynity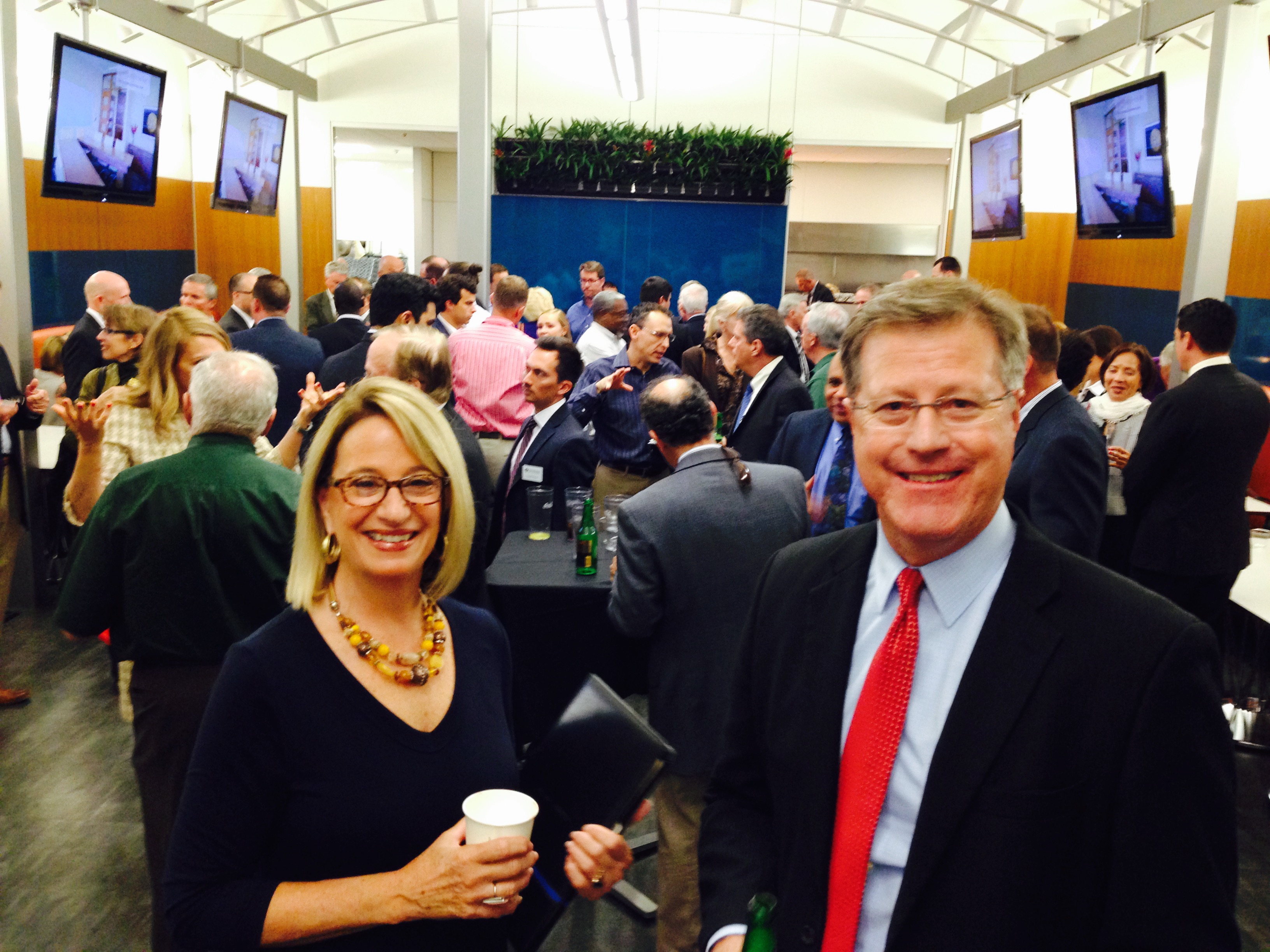 Surprise Mayor Sharon Wolcott and Hank Marshall
Grow Globally Fair Phoenix - Parking Info Below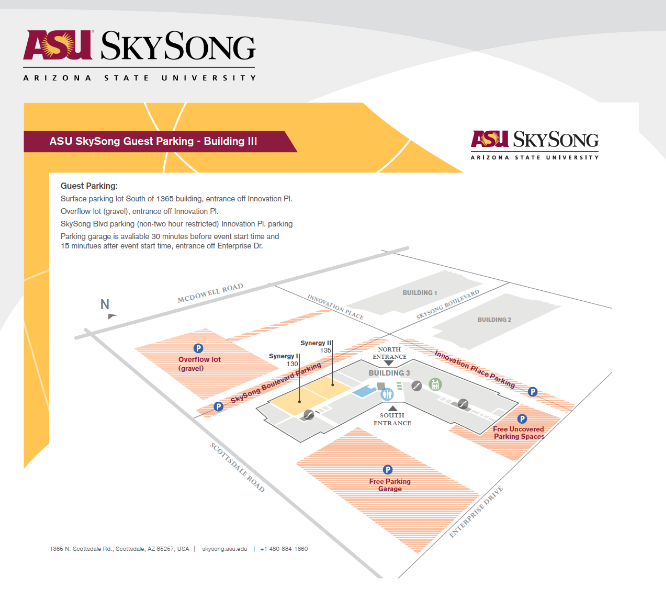 Award Program - Who Will Win in 2018?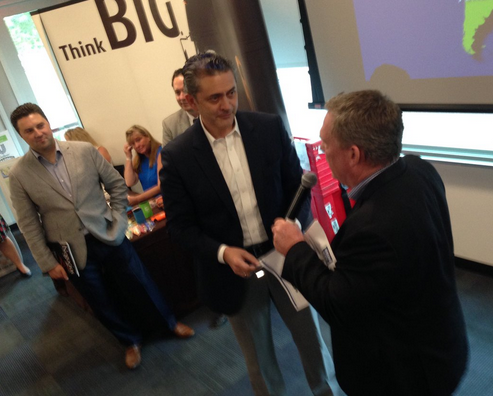 All the global resources you need to grow across metros and borders.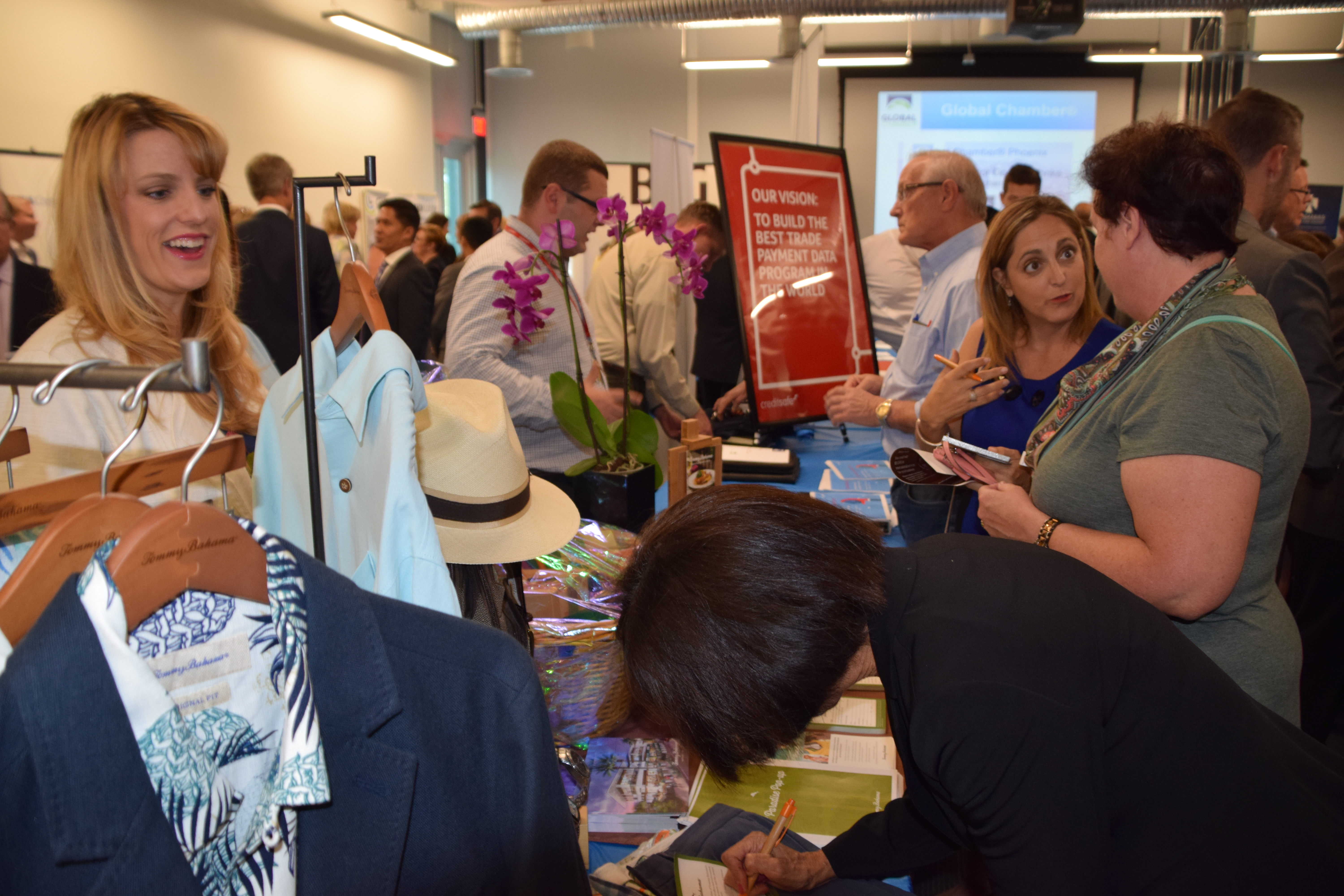 Last Year's Winners!!
Global Business Executive of the Year: Joel Barthelemy, GlobalMed Telemedicine
Global Business Service Leader of the Year: Lyle Rusanowski, Delta Technology
Global Non-Profit Executive of the Year: Stuart I Graff, Frank Lloyd Wright Foundation
Global Diplomat of the Year: Hon. Alfredo J. Molina, Molina Fine Jewelers
Global Education Leader of the Year: Joel Dupuis, Thunderbird School of Global Management
Global Business City of the Year: City of Surprise
Global Government Leaders of the Year: Rep Tony Rivero & Rep Rosanna Gabaldon
Global Banker of the Year: Kevin Hull, BMO Harris Bank
Global Attorney of the Year: Gerrit Steenblik, Polsinelli
Global Logistics Provider of the Year: Erik Foulds, CH Robinson
Global Business Media Champion: KJZZ 91.5
Global Tribe Leaders of the Year - Hank Marshall, UK Honorary Consul & City of Phoenix, Melissa Sanderson, Freeport McMoRan and Susan Shultz, SSA Search International & The Board Institute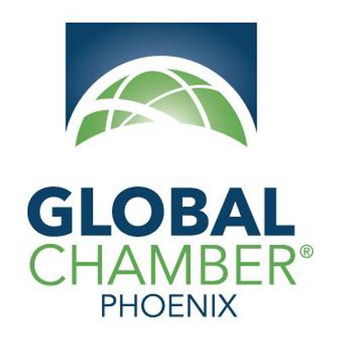 1365 N Scottsdale Road, Scottsdale, AZ, Synergy I/II (new building)