The global tribe gathers to provide input into the Arizona Town Hall process on education in the state. Some of you participated in last years Global Chamber® Phoenix - Arizona Town Hall that discussed International Trade with the global tribe (pictured below). That input was used to create recommendations the state leaders on trade. Join us at Global Chamber World Headquarter, Building 3, Synergy Room.
Now we have our say on education including the amount of funding for Pre-K12 education for an optimal impact on workforce and the economy. Join us!
This special event is in collaboration with Arizona Town Hall. By educating, engaging, connecting and empowering Arizonans to resolve these issues in a respectful and informed way, Arizona Town Hall and its partners strengthen communities, foster civic leadership and encourage positive civic engagement.
Thank you SRP for your sponsorship support. Karla Moran of SRP is on the Global Chamber Phoenix Advisory Board.

The 110th statewide Town Hall in November, 2017 will address Funding PreK-12 Education. These discussions are being preceded by local community discussions about PreK-12 Education. At these local events, Arizona Town Hall engages more Arizonans by joining with local partners throughout the state to convene Community Town Halls, which allows more people to discuss and take action on the issue.
Through this process, Global Chamber® members have the opportunity to provide a unique perspective on this very timely and relevant policy issue that impacts Arizona's workforce, productivity and the overall economy. We, like the Arizona Business an Education Coalition, are interested in "influencing the creation and support of a public education system that produces responsible citizens who contribute in a globally competitive workforce". It is also our experience that productivity rises with investments in infrastructure and workers; and those investments in education that raise educational achievement provide a major boost to our efforts as global business enterprises.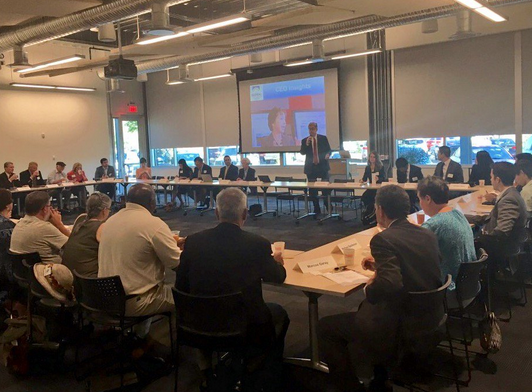 KEY GOALS & METRICS FOR EDUCATION IN ARIZONA
The Center for the Future of Arizona and Expect More Arizona recently launched the "Arizona Education Progress Meter" which has eight primary metrics. The selected metrics and Arizona's current status are as follows:
Post-Secondary Attainment – In Arizona only 42% of students go on to a 2 or 4-year post-secondary career. Aspire to 60%.

College going – In Arizona 54% of students are college bound compared to 65.9% nationally.

Opportunity Youth – More than 15% of 16-24 year olds are neither in school nor employed which is one of the highest percentages in the US. This translates to 18,100 dropouts per year adding to a total population of about 200,000 with an economic lifetime cost to taxpayers of $7.6 Billion.

High School Graduation – Arizona's rate is 79%. The national average is 82%.

8th Grade Math Proficiency – Only 26% of 8th grade students demonstrate proficient or highly proficient math test scores (one of the key metrics towards future career success and earnings).

3rd Grade Reading – Only 41% of 3rd grade students scored proficient or highly proficient (one of the key metrics that contributes to a student earning a high school diploma).

Pre-School Enrollment – 38% of 3 to 4 year olds were enrolled in an Arizona pre-school program (note: 90% of a child's brain develops before kindergarten).

Teacher Pay – Arizona teachers make, on average, 75% of the national average in teacher pay, a shortfall in excess of $14,000 per year. Several recent reports rank Arizona at the bottom of the states for teacher pay.
How Much Does the K-12 System Receive
In FY 2017, Arizona will provide approximately $5,660 per student. Per pupil funding reductions between FY 2009 and FY 2012 were due to adjustments made during the recession. When all sources of funding are considered including federal and local funds, the average per pupil amount jumps to $9,504.
Arizona spends less than $35 per thousand of personal income on education, one of only four states in the US with this distinction (Arizona, Idaho, Utah and Oklahoma) in the bottom four in overall state commitment to education spending.
School districts around the state are unable to hire and retain certified teachers. The teacher shortage has been exacerbated by the inability to provide cost of living raises and competitive salaries.
It is projected that 26,122 or 24 percent of Arizona teachers will be eligible to retire by June 30, 2018.
Student teacher ratios: To bring the state to the national average of 16 to 1 would require an additional 21,000 teachers. To return the state to the pre-recession 20 to 1 levels would require 7,460 new teachers.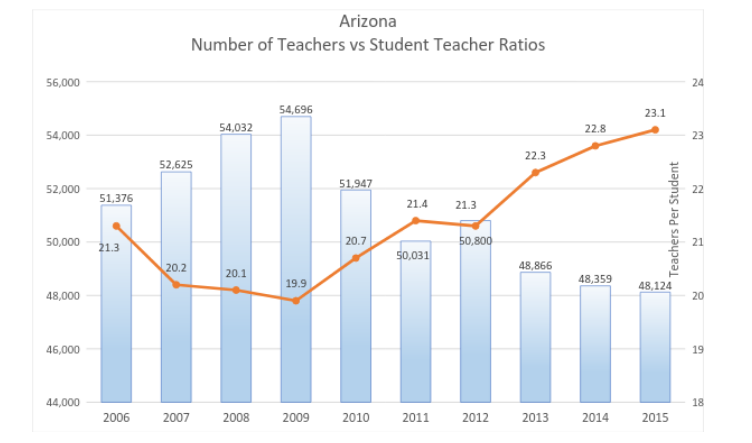 1365 N Scottsdale Rd, Scottsdale, AZ 85257, USA